Everybody deserves a piece of cake on their birthday.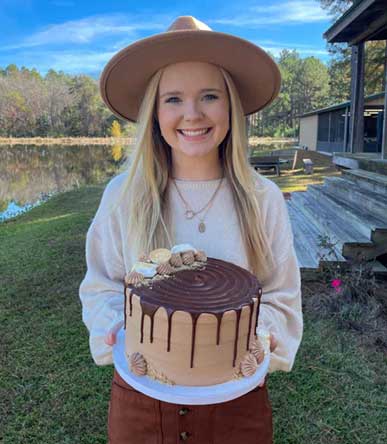 My love for baking began at a very young age – earlier than I can remember. This love of mine turned into a hobby and this hobby into a business. "Chloe's Sweets" began during my fourth grade and featured sour cream pound cakes, chocolate chip cookies, and brownies. The business began to evolve as my love for baking grew throughout my elementary and middle school years, but it was not until my freshman year of high school that I established Cake it with Chloe.
Vanilla cake with edible cookie dough filling and frosted with cookie dough frosting.
This classic cake is a staple and a definite crowd pleaser!
Coconut cake filled and frosted with coconut buttercream.
Chocolate cake filled with a whipped OREO filling and frosted with OREO buttercream.
Chocolate cake filled and frosted with peanut butter buttercream.
Red velvet cake filled and frosted with buttercream.
Chocolate cake with graham cracker crust filled with homemade marshmallow filling and frosted with chocolate buttercream.
Strawberry cake filled and frosted with strawberry buttercream.


This beautiful young lady has the BEST cakes I have ever had! One bite is all it will take to have you hooked!!
Chloe is not only VERY TALENTED, but her cakes are BEAUTIFUL AND DELICIOUS! I had the S'mores cake and it was fabulous. You WILL NOT be disappointed!
Beautiful and Delicious...one of the best cakes I have ever eaten.